Bad news, folks! Blade Runner 2049 is a box office disaster – especially in China. From Kunshan to Kunming,  folks are passing out in the theater or walking out and writing angry reviews. Sadly, this could mean a grim future for deeper, slow-burning sci-fi. But why is this classic film doing so poorly (besides its terrible, terrible poster)?

We read thousands of online reviews, trying to understand this massive, massive failure. Then we noticed a pattern. A netizen named "SunflowerSeedsMane" has been viciously trolling everyone who gave the film a score of 7/10 or above. He called them posers. He insulted their grandmothers. He accused them of sexual harassment. We tracked down this self-proclaimed "Gatekeeper of the Chinese Box Office" and asked him, "Well, how would YOU make this movie better?" He insisted on coming to our office and explaining seven ways he would save the film.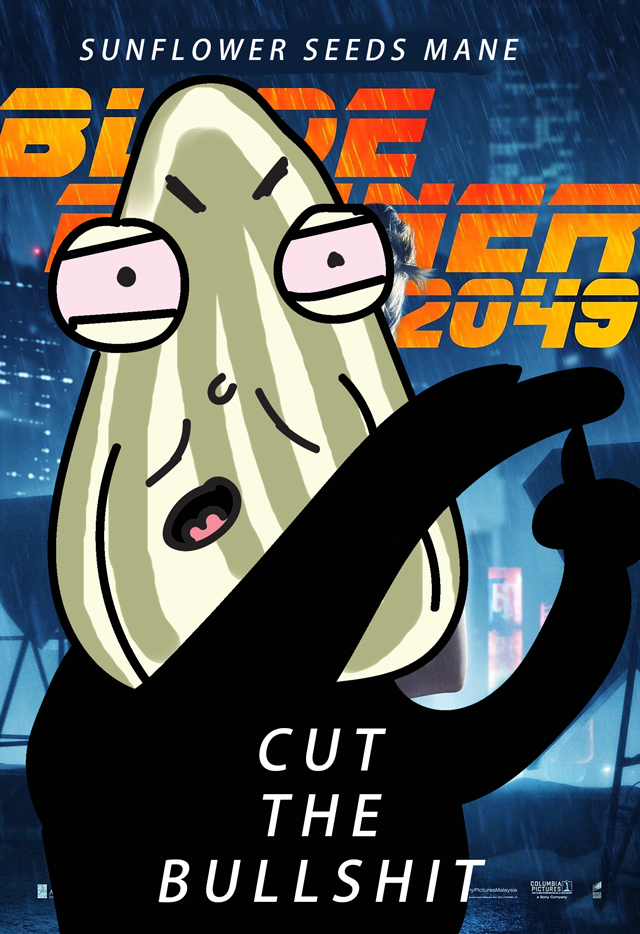 SunflowerSeedsMane: "Blade Runner 2049 really pissed me off. I want my three hours back. And all these folks on Douban talking about how they loved this film – they're all a bunch of phonies. Movies are supposed to be fun. They're supposed to entertain us while reinforcing our belief systems. There wasn't even a god damn iPhone in that whole movie! Or a song! No wonder this shit bombed.
I could make a wayyyy more successful Blade Runner sequel than Denis Villeneuve. Just make these seven changes, re-release the movie at CNY 2018, and we're gonna make more money than Jack Ma. Welcome to Blade Runner 2049: Fun & Furious."
1. More Car Racing!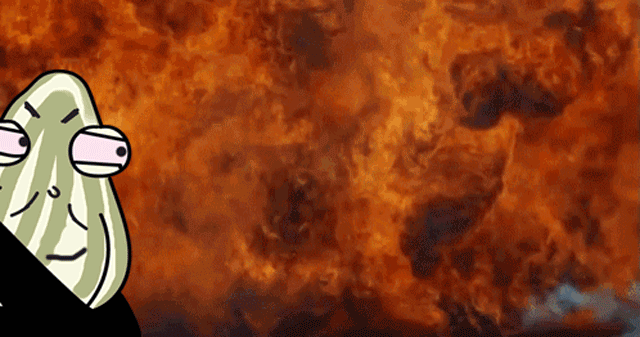 We need to start this movie with some CRAZY car races that destroy half the city, which is now Chongqing instead of LA btw. We're adding massive explosions, Blade Runners chasing Replicants, and Replicants shooting back with mind control cannons. These Replicants will be played by Arnold Schwarzenegger, Sylvester Stallone, Tom Cruise, and the entire cast of Fast & Furious. Boom!
2. More Hilarious Characters!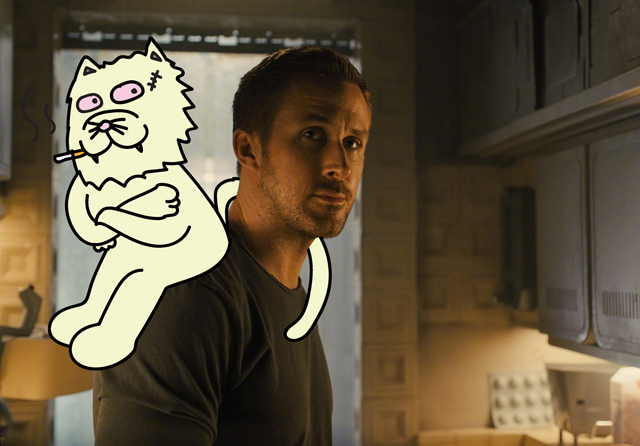 Blade Runner 2049 is wayyyyyyy too serious. Especially K. That's why we're introducing a new character named Chuckles The Dirty Dongbei Cat. He's a little fat and more than a little sleazy, and he loves telling filthy jokes in Dōngběihuà. He also has some homoerotic tension with K, kinda like Sherlock and Watson, which the younger female audience is going to love.
Cute characters = more merchandise to sell to kids, so we're gonna turn those protein worms at Sapper Morton's farm into adorable little CGI bugs that talk and giggle. AND they'll be voiced by TF Boys.
3. Blade Runner 2049 Theme Song!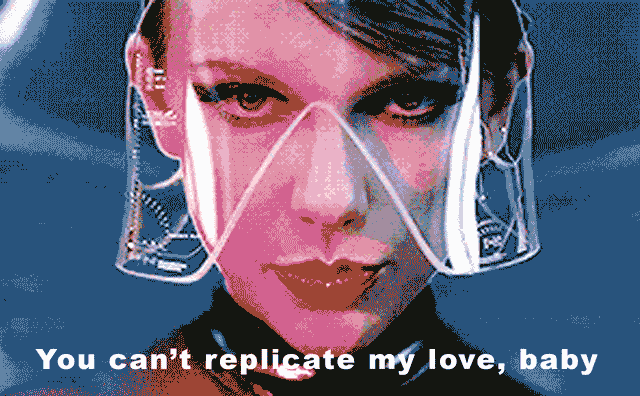 Worst. Soundtrack. Ever. It's not even music! Our new Blade Runner theme song is 2018's biggest collaboration – an EDM anthem by PG One and Taylor Swift, produced by Kris Wu, and sponsored by a beer company. This is way bigger than Wiz Khalifa's "See You Again." But we gotta relate to the older audience too, so we'll have a duet by Jackie Chan and Celine Dion, with lyrics talking about the true human spirit and the meaning of sacrifice.
Also, we need a scene where K gets attacked by anti-Replicant thugs, and when he's lying on the pavement nearly dead, he gets up and starts ripping the skin off their bones like a Mortal Kombat fatality. That's when Bon Jovi's "It's My Life" starts playing.
4. Teenage Vampires!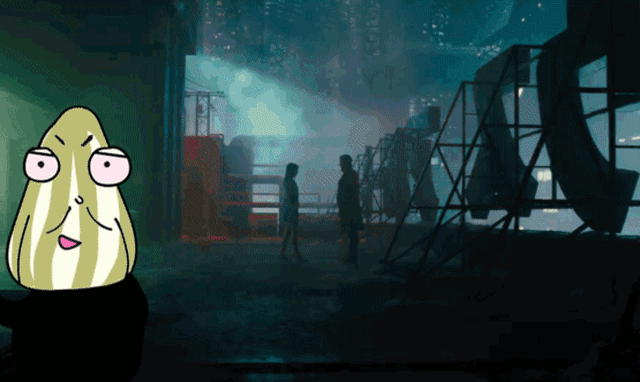 We can't just ignore everyone who stays inside watching illegally downloaded American TV shows all day. That's why we need teen vampires and their drama. Like, remember the time Vampire Ralph got drunk for the first time and Vampire Stacy helped him get over his hangover by taking him to the gym, and then they slaughtered everyone there and drank their blood? What will they do next! Side note: we should also add in some stories about white-collar city girls and their gay friends..
5. Shoot The Whole Movie in Chongqing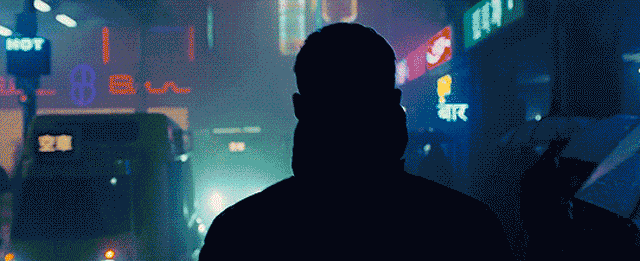 Sure, some of these changes are gonna increase the budget. But we're gonna offset that cost by shooting the whole film in Chongqing, which already looks like Blade Runner. Then we'll have some mixed-race Panda / Replicant babies selling chuàn-er in the streets, with cute aliens scanning QR codes to pay for their chuan-chuan-er.
6. Deckard's Dog Should Talk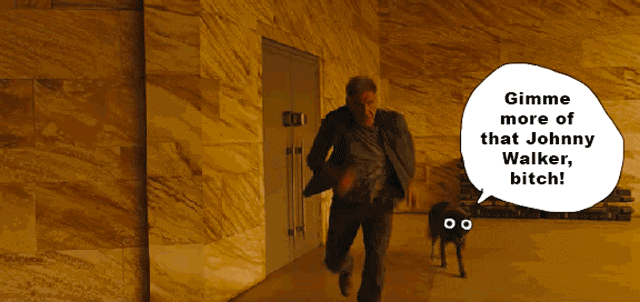 Deckard's dog is weird and possibly synthetic. Let's take it further and make him talk. After we reveal that Deckard's Dog is the mortal enemy of Chuckles The Dirty Dongbei Cat, they'll have a flying car race where the winner gets a date with Taylor Swift and the loser gets fed to the Teenage Vampires.
But is Deckard's dog a Replicant?? If we're lucky, we'll find out in one of the five spinoff films, "Blade Runner: Animaltopia," which will provide an incredibly profitable line of pet-centric merchandise that we'll market through KOL pets.
7. Localize The Love!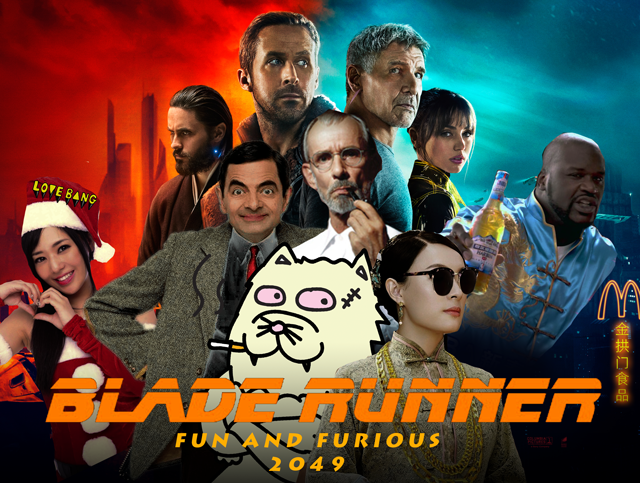 Finally, we gotta localize the love scene between K and Joi / Mariette. In our remake, K takes Joi to a brothel in Dongguan. One of those fancy brothels where you choose from a big line of girls. But these girls are Replicants played by Japanese AV stars dressed up in classic, see-through Blade Runner PVC outfits.
At this point, females in the audience might be feeling a little uncomfortable. No problem. Here's where we introduce the boss of the brothel, Wuzi Tian, who happens to be the most successful businesswoman in China. She's rich. She's independent. And at the end of the movie, she invents a time machine and saves the earth by traveling back to the Tang Dynasty with Chuckles the Dirty Dongbei Cat and killing Alden Tyrell's 8th-Century relatives. Win!
And THAT, is how we save this film, and science fiction. And I'm not giving Denis Villeneuve a single RMB of the profits, because I'm never getting my three hours back.
– SunflowerSeedsMane
Scan this QR to get lots more surreal content right to your WeChat, or jump on our email train below.